Onyx (Lux #2) by Jennifer L. Armentrout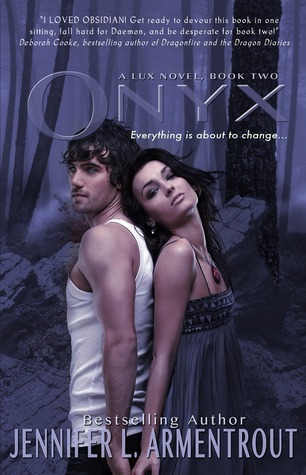 Being connected to Daemon Black sucks…

Thanks to his alien mojo, Daemon's determined to prove what he feels for me is more than a product of our bizarro connection. So I've sworn him off, even though he's running more hot than cold these days. But we've got bigger problems.

Something worse than the Arum has come to town…

The Department of Defense are here. If they ever find out what Daemon can do and that we're linked, I'm a goner. So is he. And there's this new boy in school who's got a secret of his own. He knows what's happened to me and he can help, but to do so, I have to lie to Daemon and stay away from him. Like that's possible. Against all common sense, I'm falling for Daemon. Hard.

But then everything changes…

I've seen someone who shouldn't be alive. And I have to tell Daemon, even though I know he's never going to stop searching until he gets the truth. What happened to his brother? Who betrayed him? And what does the DOD want from them—from me?

No one is who they seem. And not everyone will survive the lies…
I finally understood the buzz centering around Daemon Black, even if I'm few years late!
I've seen the Lux series everywhere! From Goodreads to blogsphere even in bookshops around me, for some reason I never picked them up, until last week. Perhaps it was because I got sick with the paranormal romance genre that always centers around the same old cliched plot, and maybe I was trying to branch out and venture into unknown territory (romantic suspense and contemporary romance seemed to be my favorite genre at some point). I guess my reader's mind was trying to break free of YA Fantasy and maturing into novels containing adult content (that sounded wrong).

Anyway (I ramble too much), HOLY-MOTHER-OF-ALL-BLACKS.
There wasn't a moment that I wasn't captivated by the story. As the chemistry between Katy and Daemon continued to spiral out of control, so does the intensity of the chapters. There were so many moments in the story where I wanted to bang Katy's head on the wall and yell at her, "Woman! Don't deny it anymore!", but there were also numerous incidents that made my heart clenched and tears brimming in my eyes.
I love the world Jennifer has created, I read about vampires and werewolves, mermaids and fairies, even zombies too, but like Katy, aliens are just ET-looking creatures with green heads and two eyes. The entire concept of Luxen (the aliens) was so refreshing and new that kept me motivated to unravel deeper into their mysteries. And the fact that they are just as normal as human beings (aside from the lack of breathing, and oh! they have superpowers) made their characters believable. The story was packed with adrenaline pumping scenes and steamy ones for you romance seekers out there, the characters also possess such unique personalities that they complement each other. One of my favorite non-Luxen, normal human pair in the series is Carissa and Lesa. With their friendly banter, they kept the story rooted.
The writing was just at the right pace, the characters were well developed (including Daemon and Katy :p ) and the story was not too rush, which only reflects on the professionalism of Jennifer's works! I have to admit, the ending had me run to the nearest bookstore and grab the third book, it was that good.
WARNING: Prepare a box of tissue by your side, you'll need it :P
Posted by,