Stacking the Shelves #1
Stacking the shelves
is a weekly meme hosted by
Tynga's Reviews
. It's a chance to display the books you have acquired this week! Whether or not it's in a physical or virtual form, this meme allows you to share the books you are excited about!
Hi there!
It's my first time participating in this meme and I have to say that it is so very exciting!
Book #1 - Silver Phoenix by Cindy Pon
No one wanted Ai Ling. And deep down she is relieved—despite the dishonor she has brought upon her family—to be unbetrothed and free, not some stranger's subservient bride banished to the inner quarters.
But now, something is after her. Something terrifying—a force she cannot comprehend. And as pieces of the puzzle start to fit together, Ai Ling begins to understand that her journey to the Palace of Fragrant Dreams isn't only a quest to find her beloved father but a venture with stakes larger than she could have imagined.
Bravery, intelligence, the will to fight and fight hard . . . she will need all of these things. Just as she will need the new and mysterious power growing within her. She will also need help.
It is Chen Yong who finds her partly submerged and barely breathing at the edge of a deep lake. There is something of unspeakable evil trying to drag her under. On a quest of his own, Chen Yong offers that help . . . and perhaps more.
Book #2 - Origin (Lux #4) by Jennifer L. Armentrout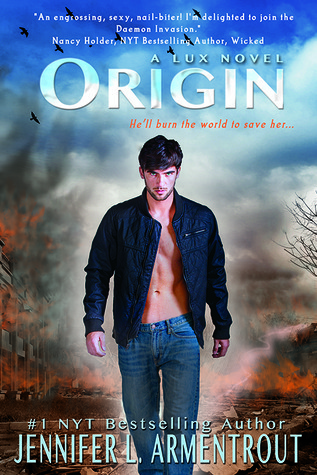 Daemon will do anything to get Katy back.
After the successful but disastrous raid on Mount Weather, he's facing the impossible. Katy is gone. Taken. Everything becomes about finding her. Taking out anyone who stands in his way? Done. Burning down the whole world to save her? Gladly. Exposing his alien race to the world? With pleasure.
All Katy can do is survive.
Surrounded by enemies, the only way she can come out of this is to adapt. After all, there are sides of Daedalus that don't seem entirely crazy, but the group's goals are frightening and the truths they speak even more disturbing. Who are the real bad guys? Daedalus? Mankind? Or the Luxen?
Together, they can face anything.
But the most dangerous foe has been there all along, and when the truths are exposed and the lies come crumbling down, which side will Daemon and Katy be standing on?
And will they even be together?
Merry Christmas and Happy Reading Week!
Posted by,