Deal Breakers by Laura Lee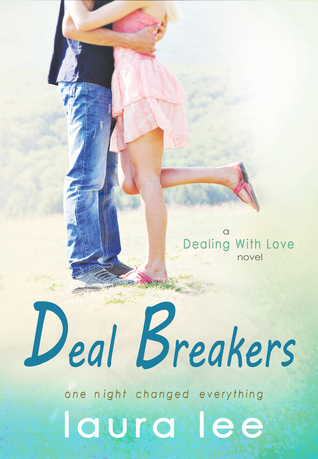 Title: Deal Breakers
Author: Laura Lee
Genre: Contemporary Romance, New Adult
Publication Date: September 1, 2015
Publisher: LAN Fiction LLC
How were they supposed to know that one night would change everything?
Devyn has life all mapped out. She just needs to accomplish one more thing before graduating college and becoming a full-fledged adult—lose her virginity. And who better to assist her than her best friend, Riley?
Riley is the self-proclaimed king of fling. His college years have been filled with meaningless hookups until the one night that ruined him for all other women. The one night he spends with his best friend, Devyn. Right before he screws it all up.
Balls to the wall, baby!
Now five years later, Riley is determined to atone for his mistakes and prove that he can be the man that Devyn deserves. Little does he know that Devyn's been keeping a secret from him all these years. A big secret. Now he has to figure out how to win back the only girl he's ever loved while navigating the pitfalls of her unexpected revelation.
*I received a copy of Deal Breakers from Netgalley in exchange for an honest review*
I've seen the book around the blogosphere and Netgalley and was immediately attracted to the cover and blurb that seemed to promise the thrill of young love. The story line bears close similarities to that of
Love, Rosie
and I wasn't complaining because I freaking loved that movie. As an added bonus, I constantly imagined the protagonists, Devyn and Riley's characters to be Rosie and Alex, I freaking love them too!
Eeek!! Although Devyn was a blonde in the book :P
I was looking for a quick read and Deal Breakers excellently delivered, the length of the novel was just right for a 2-3 hours read and the writing was good enough to give you the warm, fuzzy feeling of being in love.
What I love about the book:
This being the first contemporary romance published by the author, I say she did a great job on the writing! Aforementioned, it was just the kind of book that is perfect for a short read before bed. I also really loved the sense of humour injected into this book, there were some lines that were so innocent, it cracked me up for the most naive reasons!
"Uncle Drew, don't you mean you're going to make a chocolate sundae for the sewer monster?"
Yeap, that poor kid was referring to his uncle Drew's poop.
Besides that, Lorraine and Brody were great additions to the story, I will be looking forward to read about their story in Lee's next book in the series, if there is one. If you are looking for a light-hearted read, this is just the book for you. I really enjoyed the cute and easygoing theme the book has, now I'm tempted to rewatch Love, Rosie.
What I am not so hyped about the book:
As much as I loved the length of the novel, I would very much prefer if the characters were more well developed. I do not seek originality in the storyline because judging from the blurb, this kind of plot has been recurring in most of the romance novels these days, therefore my expectations were not set too high. But I was sort of disappointed that the first few chapters felt flat to me. I just wished there were more depth to the romance so that it would seemed more convincing, but I managed to get into the story as it progresses.
Overall, Deal Breakers was a quick, light read and I would recommend it to those of you who like a whole lot of cuteness alongside the romantic storyline. I liked the book but just not overly hyped about it. Nevertheless, I would be sleeping with a girly grin on my face.
Posted by,