ARTMATEUR: The Beginning
When every day feels like a Saturday, who's counting the days anymore.
Hello and welcome to my new blog feature!
Day 29th into the quarantine period and I still have at least 2 to 4 more weeks to go, while I'm still working three days out of the week, I am left with ample of time during the evenings and weekends - and with more TIME meant only one thing - I can finally invest it into my hobbies!
Now, to those who know me in real life growing up also know that Natasha doesn't have a single artistic bone in her body. My drawings were so horrendous I could turn fruits into animals and my drawing ability is something to laugh at, but that doesn't mean that I stopped admiring those artists from afar.
My typical thought process:
I wished I could draw like that someday!
Ugh, my drawings will never measure up.
Just give up, you will never achieve that level of perfection.
Negativity kills, and I am the living example of that.
At the beginning of 2020, that's when I stumbled across an article that completely changed my life. One sentence that left a significant impact on my life.
And that's it! As simple as that, I found the answer to why I have always been bad at drawing - I always started with an expectation in mind. The trick to creating art is never the end result, but it's all about falling in love with the process.
To be honest, this rule of thumb can be applied in every aspects of our everyday lives.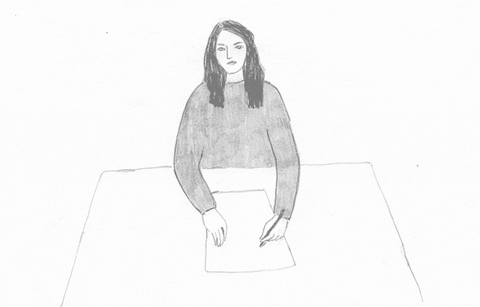 LET'S BEGIN!
There are many forms of art, but I've always been drawn to the simplest & most basic form of art - sketching. So in January 2020, my artistic journey began.
With zero basics on hand, I started watching youtube tutorials from artists I followed. These were my results!
I started with the basic lip (because it's one of my favorite face features), I only had an HB & 2B pencil on hand, and a cheap sketchbook I bought from the stationery store. I kid you not, I screamed when I saw how it turned out.
I, Natasha, managed to draw something that doesn't look like crap, that revelation!
08/01/2020 - First try
Feeling extremely motivated to do more, I started learning more and more basic facial structures - eyes, nose, lips & ears. Although...it wasn't one of my finest works. But, keep going right?
15/03/2020 - After two months of progress (I took a month break in between)
But I was just bored of drawing just one single facial feature each time, so I challenged myself to do a full portrait. Besides, it was the start of the lockdown in my country, I wanted to see where time & practice will lead me.
18/03/2020 - First Day of Lockdown and my first official portrait
You know how you are your biggest critique? While I thought my art progress was good (total artmateur here *coughs*), I wanted to achieve realism, that meant diving deeper into the world of online tutorials and also where I discovered my lifesaver, my guru, my online tutor.
I started subscribing to
@SilvieMahdal
on Patreon and my art improved tremendously! I recommend checking out her Instagram because you will just fall immediately in love!
23/03/2020 - My first realistic curl! As you can see, the effect is a much softer look.
After browsing for inspirations on Pinterest, I wanted to recreate a portrait look with the newfound knowledge I discovered.
Let me tell you, I was so f******* proud of myself.
08/04/2020 - I DID IT
What's next for me? Draw and draw somemore! I want to draw a realism portrait of my favorite celebrities one day, one that I would be proud of, and that's how I measure success.
I will continuously post my artworks via this tag
#Artmateur
on my blog.
What have you been up to during this quarantine period?