First by M.A. Grant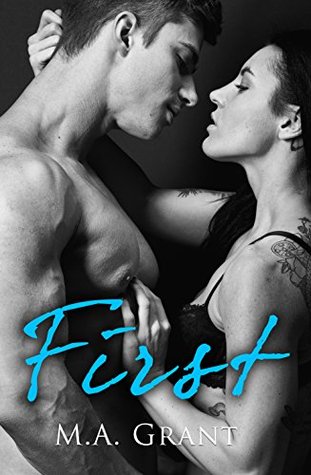 Title: First
Author: M.A. Grant
Genre: New Adult
Publication Date: January 15, 2016
Publisher: Escape Publishing
Best friends do everything together—including falling in love…
Maya and Cat have been there for each other through thick and thin, the good and the bad, the laughter and the heartache. But with college graduation on the horizon and real life looming, they find themselves facing an uncertain future: one where not even friendship can save them from confusing choices, bad decisions, and the risks of falling in love.
Maya knows that love only leads to pain, and the best relationships are short—one night short. But after waking up with Jake, her best friend's older brother, in her bed, suddenly things aren't as cut and dry. Cat and Jake are close, a tight unit since their parents' death, and Cat will never forgive her if Jake gets hurt. Jake is a firefighter, and is used to running into flames—not away from them, and Maya can't seem to resist. But she's already decided her future, and it's far away from here. The only way to get what she's always wanted is to burn every bridge behind her, and destroy the possibility of a future with the one man she may be willing to love.
When Cat Jacobs's parents died while she was in high school, her brother's best friend Dallas Miller was there to help pick up the pieces. Several years and a looming college graduation later, Cat's motorcycle-riding, tattooed knight is about to ride off into the sunset—and leave her in his dust. She only has six days to convince him to fulfil her secret fantasy of having him for her first before he's gone forever. She's stubborn and he's tempted, but this is a battle for more than just some time in the bedroom—it's a fight for both their futures.
*I received a copy of First from Netgalley in exchange for an honest review*
First,
For those of you who knows me well, you may not be surprised to know that I am a huge "romance-holic", and I do behave like a vulture scavenging the romance section every single time I visited the book store. Therefore, how could I pass up on the opportunity when I stumbled upon such an irresistible cover filled with promising romance? Boy, I wasn't disappointed. Major plus points for the steamy cover!
This is the first time I ever read anything from M.A. Grant, and her writing style captivated me almost instantly with the opening paragraph. I fell in love with all of the characters from the first page. It was amazing that the author managed to weave a romantic story in just 125 pages and making the readers (well, me, mostly) felt as if we have known the characters as much as those that we took 365 pages to understand. Despite the short length of the novel, especially when it was sectioned into both Maya and Jake's story and continued with Dallas and Cat's later on, there wasn't a moment that felt wasted. The story was that good.
The only negative point for me was the ending for both Maya and Jake's story, it felt a bit rushed in comparison with Dallas and Cat's, but I do appreciate that the author saved me from the elaborated drama that makes up most of the romance novels' plot. Due to that, it was one of the points that made First stood out for me. Additionally, the sexual innuendos were not overdone in the book and it was just present in the right amount to spark up the tension, coupled with humour, this book was just the perfect blend.
I was shocked at how Maya and Jake's story ended, I never thought for it to be that short. Of course I needed more and how I wished their stories were told in two separate books, however it was undeniable that the book was perfect in its own way. I harboured a huge crush on Dallas because, well let's get real, who doesn't love a mechanic with tattoos? I could also relate to Dallas and Cat's story because my boyfriend and I started off as best friends, therefore their love held much more depth than it may originally seemed from the blurb.
I won't label this as a short read, in fact, I highly recommend this book to those who are seeking an impactful romance novel. No there weren't any protagonists' deaths or terminal illnesses, but it was the simplicity of the story that seemed hard to come by these days. This book definitely is the first of M.A. Grant's books and looking forward to read more of her works in the future!
Happy reading.
Posted by,