Faithful (Fearsome #3) by S.A. Wolfe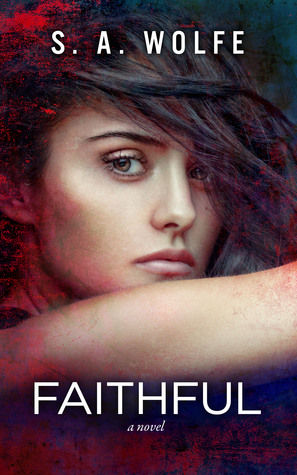 Title: Faithful
Author: S.A. Wolfe
Genre: New adult, Contemporary Romance, Erotic
Publication Date: October 23, 2015
A bombshell waitress who wants more. A former FBI agent who wants less … except for her.
*This is a standalone novel in the FEARSOME Series.
Imogene Walsh has always been unapologetically confident and ruthlessly opinionated with people, particularly men. No one is spared from her unfiltered mouth, but it hasn't seemed to deter Cooper MacKenzie. Although he is not the clean-cut, businessman type she's always thought she should pursue, Imogene is drawn to the sexy outsider who is the hottest topic in town gossip, the fantasy heartthrob women love to speculate about.
She has spent most of her life in the little town of Hera, NY, putting her numerous forgettable relationships behind her and floundering in both her professional and personal life. Work and men—neither have gone well for her. Now it's reached the point where she wants to stop playing it safe.
It may be time to live up to her tough reputation and take a chance on Cooper, the only man who isn't intimidated by Imogene's brash personality. However, it could be a thrilling ride that doesn't end well.
*I received a copy of Faithful from Netgalley in exchange for an honest review*
Adore the cover, adore the series name and love the writing!
I haven't read the rest of the Fearsome series but because this is a standalone, I decided to give it a try (how can I resist this book when there's a character named Imogen?) I was completely smitten from the start!
Between Imogen's smart mouth and Coopers irresistible flirt, the pages exploded with steamy banters filled with tensed sexual chemistry. I fell in love with both of them almost instantly. Imogen had her heart broken by countless wankers. After Jeremy, she sworn to stay away from guys who are hot, sexy and flirty, just like Cooper. Yet, Imogen's indifference towards Cooper never deterred his persistent pursue, will love ever be enough?
Honestly, as cliché as the story may seemed, I had a wonderful time reading the book, mainly because the characters were so lovable and the secondary characters were so well developed. Although I did not read the first two books of the series, I felt as if I had long known their stories. I was also touched by Cooper's faithfulness towards Imogen. His determination in winning Imogen was inspiring (and heart-melting), he was a hopeless romantic despite his past and tough exterior. He really does has a soft spot for Imogen and that's what won me over.
However, as much as I loved the story, there are certain parts to it that I don't really like. Well, whenever I read a romance novel, I mentally divide them into four main segments.
The build up: The journey where the characters are discovering their own feelings towards one another.
The flirty stage: All things are good in lovebirds' heaven.
The drama: A hidden secret was exposed, and things just got ugly.
The sweet finishing: Both characters managed to overcome the obstacle and their relationship did not crumble, but strengthened.
From the build up to the flirty stage, Cooper and Imogen had it covered, I was anticipating of what the next stage would bring. However, it just fell flat from there. I was slightly disappointed that the plot took a turn to the "tug of war" stage, where Imogen and Cooper tiptoed around the I love you, but love is not good enough game. Maybe I was in the mood for drama and needed a heartbreaking story, but there was where Faithful missed the mark. Another negative point for me is the cover. Yes, I adore the cover, however I was unable to relate the awfully romantic story to the kickass cover that emits a dystopian vibe. I was totally getting the Katniss Everdeen vibe and did not peg this for a romantic novel at first, so it was a little bit confusing to me as I spend ample of my reading time staring at beautiful book covers.
Despite it all, the ending was swoon-worthy! I really am looking forward to reading the first two books of the series, that's how faithful I will be :p
Happy reading!
Posted by,