Review - Rebel by Rebecca Yarros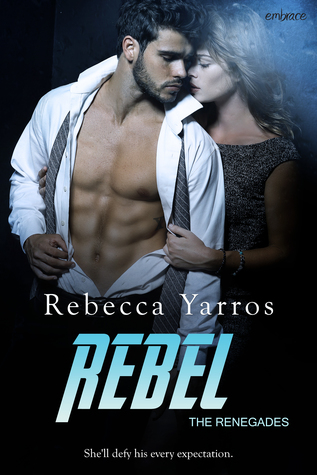 Title: Rebel
(Renegades #3)
Author: Rebecca Yarros
Genre: New Adult, Contemporary Romance
Expected Publication: August 28th 2017
Publisher: Entangled Embrace
She'll defy his every expectation.
She's Penna Carstairs.
The Renegade they call Rebel.
FMX-treme Magazine's sexiest female athlete of the year.
There's no rule in extreme sports she hasn't broken,
No gender barrier she hasn't demolished.
She's the woman I met in a bar in Vegas.
The woman I illegally BASE jumped for.
The woman I spent one insane, incredible night with.
But now I'm screwed.
Or rather…not screwed.
Because the woman I can't get out of my head is the one woman I can never touch again.
I'm Dr. Cruz Delgado—the youngest professor on this campus,
And Penelope Carstairs just walked into my class.
Rating: 5 HOLY FREAKING REBEL STARS
If base jumping, cliff diving, snowboarding and every kind of insane stunts these Renegades pull off doesn't give you enough thrill, Penna and Cruz will definitely melt your panties with their hotter-than-Mars romance!
Strap me onto a harness, because I can't wait to dive into the book again! (yes, I'm rereading this soon because, hell, it's Rebecca Yarros.)
I have been a huge fan of Rebecca Yarros ever since I read her Flight & Glory series. She's my auto-buy author, the one who I massively recommend to all of my romance booknerdigans, the J.K. Rowling of contemporary romance and I literally shrieked when I was approved for an ARC copy of Rebel.
Knowing her works, I took my time devouring and savoring every moment. Penna and Cruz's story was emotionally gripping, intense and extremely exhilarating, adding to the mix was the thrill of being secretive as Cruz was Penna's teacher.
"With Penelope I'd been a moth drawn to the flame she was - wild, beautiful, and hypnotically irresistible."
Penelope "Penna" Carstairs is called Rebel for a reason. She defies the gender stereotype of extreme sports by being a part of the Renegades, a group of highly skilled stuntman with a taste for challenge and courage made out of steel. But an accident had robbed her of herself and she struggled to find the "Rebel" part of her that was missing ever since.
Until Vegas.
And until Cruz.
Cruz is hiding a secret of his own. A secret if discovered will put everything he ever worked for in jeopardy. But Penelope was the one, and she is worth every single risk.
"At the period in my life when I needed to stay put together more than anything, that woman was doing her best to unravel me one nerve at a time."
It was such a roller coaster ride right from the start. From reading Penna and Cruz fighting to respect their teacher/student boundaries to eventually caving into their desires, and the whole ordeal of regaining the "Rebel" confidence and the plot twist in the end, it wasn't the kind of read that you rush into. Three words. I'M. IN. LOVE.
Yarros has a way of enchanting you with her writing. In that few hours of reading, I felt like a true Renegade, and it was so effing awesome!
Thank you Entangled Publishing for the reviewing opportunity! I couldn't believe it!