Princess of the Midnight Ball (Princess #1) - Jessica Day George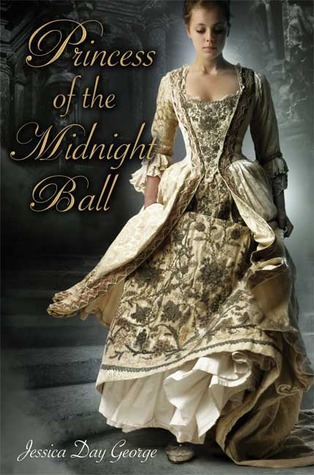 What young girl wouldn't want to dance her nights in this splendid castle, in the arms of a handsome suitor?
As the crown princess, Rose is never without a dance partner. She and her eleven sisters are treated to beautiful gowns, slippers, and dances at party after party in their father's palace. But their evenings do not end when the guest return home. Instead, Rose and her sisters must travel deep into the earth of the wicked King Under Stone's palace. There, the girls are cursed to dance each night, even when they grow exhausted or ill.
Many princes have tired - and failed - to break the spell. But then Rose meets Galen, a young soldier-turned-gardener with an eye for adventure. Together they begin to unravel the mystery. To banish the curse, they'll need an invisibility cloak, enchanted silver knitting needles, and, of course, true love.
This is my few of the rarest take on historical romance.
As much as I adore watching historical movies like Becoming Jane and The Young Victoria, books with historical plot never seemed to attract my interest enough for me to keep on reading. The sentences always seemed too odd, the characters were too innocent, I don't get the jokes, and I am always confused by who is who. Yet, determined to change my mindset, I've went ahead and purchased a historical YA novel hoping that I'll start off with baby steps before I proceed to read Jane Eyre or Wuthering Heights.
It worked for a little while though.
To be honest, I was excited to read it when I first purchased the book because it was a retell of The Twelve Dancing Princesses, a story from my childhood which I remembered very well. Plus, the cover was amazing!
For the first few chapters I was captured heart and soul, but it just kind of fell flat after 50 pages in, and I was epic-ly disappointed. When Galen was first introduced in the story, he struck me as an army with a soft personality, he knits for love's sake! And I just kind of fell in love with him then, I mean, who wouldn't fall in love with this face?
But something was just lacking in the story, the sentence structure were too simple (what happened to "

O, Romeo, Romeo, wherefore art thou Romeo?

", yes I know I'm being picky *sticks tongue out*) and there were not much character development involved. I would describe it as

reading a bedtime story with more words

.

The idea of the story was unique, I just hoped that the writing was more engaging. Perhaps I was searching for something more intense? Heart pounding? Nerve wrecking?
I was disappointed that there were not enough chemistry between Galen and Rose, sometimes the princesses gets on my nerves with the constant crying, I don't really feel their suffering when they have to sneaked out to dance in King Under Stone's palace, and I actually found King Under Stone's threat funny. Gosh, I sounded so mean.
However, it was not all that bad, after all I rated it 3.5 stars. One significant thing that I do love about the story was the final battle between Galen and King Under Stone and Galen's journey to discover the truth about the princesses' midnight whereabouts, and I just love the fact that Galen knits! I also enjoyed reading the interview with the author and the sneak peek for the next book, Princess of the Glass, which is based on Cinderella.
I was going to take the baby steps, but perhaps I haven't found the right book yet. Nevertheless, I will buy Princess of Glass because I couldn't resist not finishing the book after reading the sneak peek!
[spoiler : A young handsome prince, a beautiful Princess and her too perfect rival. I smell disaster! ]
*Do you know that knitting was considered a men's job before it was took over by women? It was an interesting fact that I learned from the author and to know that men knitting is not uncommon at all! Yet, whenever I picture Galen knitting, it's something like this :
Hoping to escape the troubles in her kingdom, Princess Poppy reluctantly agrees to take part in a royal exchange program, whereby young princes and princesses travel to each other's countries in the name of better political alliances--and potential marriages. It's got the makings of a fairy tale--until a hapless servant named Eleanor is tricked by a vengeful fairy godmother into competing with Poppy for the eligible prince. Ballgowns, cinders, and enchanted glass slippers fly in this romantic and action-packed happily-ever-after quest from an author with a flair for embroidering tales in her own delightful way
Reviewed by,