Tell Me Something Tuesday #15
Tell Me Something Tuesday is a weekly meme hosted by Rainy Day Ramblings discussing a variety of topics from books to blogging and everything else! If you are interested, simply just post your own answer in your blog and join in the fun!
Firstly, I would like to start off by saying how much I missed this meme from 2 years ago and can't believe that it is still going around! It took me a few research to findd out that a different host has took over the memes (it was originally hosted by
Cambria Hebert
). I had also disappeared for the last 2 years because of uni and stuff, but now I am starting to pick up the blogging pace again. Hopefully I will be around more often!
This week's TMST:
Do you feel like if a book is priced for $.99 or even free that it is a lesser quality book?
This is a real toughie.
Can I say that I am ashamed for doing so? I have my fair share of books ranging from pure dreadful to okay and amazing! When I first started reading I always thought that the pricier the books are, the better the content they will have. It is symbolic to the food we eat, we would often opt for pricier food because we assume it guarantees a better quality. But I was surprisingly mistaken.
I have gained respect for indie authors because I have been amazed by their works throughout the years, sometimes even better than the ones I bought from the bookstores. I have no longer allow the price to fool me and has became very much adventurous when it comes to selecting book genres. Among the few "un-commercialized" books that I have redeemed from smashwords or netgalley that still sticks with me to this day are:
Hushed by Kelley York
Published:

December 6th 2011
He's saved her. He's loved her. He's killed for her.
Eighteen-year-old Archer couldn't protect his best friend, Vivian, from what happened when they were kids, so he's never stopped trying to protect her from everything else. It doesn't matter that Vivian only uses him when hopping from one toxic relationship to another—Archer is always there, waiting to be noticed.
Then along comes Evan, the only person who's ever cared about Archer without a single string attached. The harder he falls for Evan, the more Archer sees Vivian for the manipulative hot-mess she really is.
But Viv has her hooks in deep, and when she finds out about the murders Archer's committed and his relationship with Evan, she threatens to turn him in if she doesn't get what she wants… And what she wants is Evan's death, and for Archer to forfeit his last chance at redemption.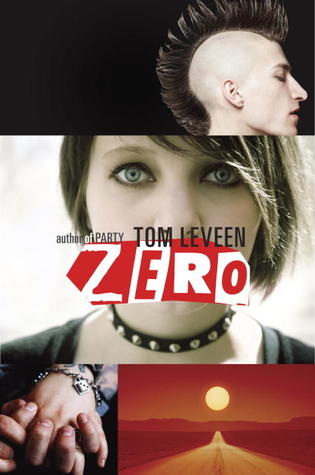 Zero by Tom Leveen
Published:

April 24th 2012
For aspiring artist Amanda Walsh, who only half-jokingly goes by the nickname Zero, the summer before college was supposed to be fun—plain and simple. Hanging out with her best friend Jenn, going to clubs, painting, and counting down the days until her escape. But when must-have scholarship money doesn't materialize, and she has a falling out with Jenn that can only be described as majorly awkward, and Zero's parents relationship goes from tense to relentless fighting, her prospects start looking as bleak and surreal as a painting by her idol Salvador Dali. Will life truly imitate art? Will her new, unexpected relationship with a punk skater boy who seems too good to be real and support from the unlikeliest of sources show Zero that she's so much more than a name.
Lisez la Fleur by Alexandra Lanc
Published:

February 14th 2013
Twenty-year-old Lorine Stringfield's life is about to change forever, and she doesn't even know it.
Weighted down by the death of her father, her overbearing mother, and the sadness of her little brother, Lorine has less than high hopes for her family's trip to France. But all of that changes when she is invited to visit the illustrious Chateau du Jumeaux – a premiere nightclub that only the most privileged attend. Lorine jumps at the chance to do something for herself, but gets more than she bargained for when she discovers the terrible truth: the chateau isn't a nightclub at all, but a feeding ground for perhaps the most ruthless of beings, the creatures known as vampires.
And right now I am currently reading (which I got for free):
Elementris by Christina Mobley
Published:

July 11th 2012
There are people born in this world with a powerful connection to the earth itself...
They have an unbreakable and extraordinary bond. Every seven years, five people are born on the same day, at the exact same time. The elements bind them; earth, fire, wind, water, and spirit. They call them, Elementris.
Ava Vangeretta is seventeen years old and different. Unlike most born of the element, she was born alone. She has the power of all five elements. Ava is the first True Elementris to be born in many years. As her eighteenth birthday approaches she is faced with a choice. Give up this rare gift and live the normal life she has always craved or accept it and challenge the current True Elementris in a battle to the death!
Ava's past haunts her as she struggles to decide. In her present, the seasons are colliding together, storms are destroying lives, and love is a dangerous curse. The current True Elementris is behind it all and she will do whatever necessary to keep Ava from making it to her eighteenth birthday. Ava's decision threatens the lives of the two people she cares about most. Can you choose between love and friendship?
Get ready for the storm...
I enjoyed most books I've reviewed for free and today I no longer allow the price to cloud my judgement. Don't judge a book by its price :P
Next week's TMST:
Are you comfortable with the direction NA is going.... with all the erotic scenes and steamy covers?
Posted by,