Judge a Book by its Cover #4
Hi!
As some of you might know, I haven't been in touch with the blogging community for almost 2 years, and to be honest so many things have changed that I was in a sudden culture shock. However, I have came up with a 'September Resolution List' that I aimed to fulfil for the month, meaning I will be returning to my favourite hobby! - Blogging.
Resolutions:
#1
Reconstruct my blog - I am currently in the process of updating my followers' databases, adding new widgets is not as easy as it sounds!
#2
My Bloggersary will just be in days! I am still deciding on events I should organize, however I just got the blogging buzz going on again, so for this year maybe I'll start off with something small.
#3
Actively participate in weekly memes.
And now for today's post.
Judge a Book by its Cover (#JBC) is a feature that I had created for my blog a few months back where I would post pictures of books that caught my eye when I was browsing GR or my local bookstores during the week.
For this week's theme:
Title :
Echoes of Us (The Hybrid Chronicles #3)
Author:
Kat Zhang
Published:
16 September 2014
Blurb
All Eva ever wanted was the chance to be herself. But in the Americas, to be hybrid—to share your body with a second soul—is not tolerated past childhood. Now Eva and Addie, her sister soul, are constantly on the move, hiding from the officials who seek to capture them. But the tide is changing. A revolution is brewing, and people are starting to question the hybrids' mistreatment.
Then Marion, an ambitious reporter, offers Eva and Addie a daring proposal: If they go undercover and film the wretched conditions of a hybrid institution, she will not only rescue them, she'll find a way to free Jackson, the boy Addie loves. It's risky, and Eva will have to leave Ryan and her friends behind, but if she succeeds, it could also tip the scales forever and lead to hybrid freedom.
As Eva and Addie walk into danger, they cling to each other and the hope of a better future. But the price they might pay is higher than they ever could have imagined.
Judge & Jury:
I haven't read the first and second book of the series but the cover really caught my eye! It's simple yet appealing, and I've never read any books about hybrids. Definitely going to give it a try!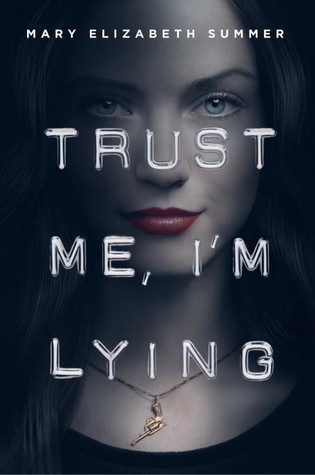 Title :
Trust Me, I'm Lying
Author:
Mary Elizabeth Summer
Expected publication
: October 14th 2014
Blurb:
Fans of Ally Carter, especially her Heist Society readers, will love this teen mystery/thriller with sarcastic wit, a hint of romance, and Ocean's Eleven–inspired action.
Julep Dupree tells lies. A lot of them. She's a con artist, a master of disguise, and a sophomore at Chicago's swanky St. Agatha High, where her father, an old-school grifter with a weakness for the ponies, sends her to so she can learn to mingle with the upper crust. For extra spending money Julep doesn't rely on her dad—she runs petty scams for her classmates while dodging the dean of students and maintaining an A+ (okay, A-) average.
But when she comes home one day to a ransacked apartment and her father gone, Julep's carefully laid plans for an expenses-paid golden ticket to Yale start to unravel. Even with help from St. Agatha's resident Prince Charming, Tyler Richland, and her loyal hacker sidekick, Sam, Julep struggles to trace her dad's trail of clues through a maze of creepy stalkers, hit attempts, family secrets, and worse, the threat of foster care. With everything she has at stake, Julep's in way over her head . . . but that's not going to stop her from using every trick in the book to find her dad before his mark finds her. Because that would be criminal.
Judge & Jury:
I have
always
, I repeat,
always
, wanted to read Summer's works. First things first. How often do you have a female criminal? Secondly, let alone a con artist? Heck, I am loving this book already. Aside from the creepy aura that radiated from the cover, the blurb sounds extremely creative! I can't wait to get my hands on this book (if I am lucky enough to find it in the bookstores), somehow it would also be able to pass off as a vampire series though :P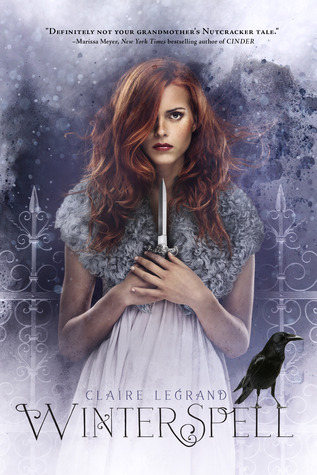 Title:
Winterspell
Author:
Claire Legrand
Expected publication:
September 30th 2014
Blurb
The clock chimes midnight, a curse breaks, and a girl meets a prince . . . but what follows is not all sweetness and sugarplums.
New York City, 1899. Clara Stole, the mayor's ever-proper daughter, leads a double life. Since her mother's murder, she has secretly trained in self-defense with the mysterious Drosselmeyer.
Then, on Christmas Eve, disaster strikes.
Her home is destroyed, her father abducted--by beings distinctly not human. To find him, Clara journeys to the war-ravaged land of Cane. Her only companion is the dethroned prince Nicholas, bound by a wicked curse. If they're to survive, Clara has no choice but to trust him, but his haunted eyes burn with secrets--and a need she can't define. With the dangerous, seductive faery queen Anise hunting them, Clara soon realizes she won't leave Cane unscathed--if she leaves at all.
Inspired by The Nutcracker, Winterspell is a dark, timeless fairy tale about love and war, longing and loneliness, and a girl who must learn to live without fear.
Judge & Jury:
Creepy cover girl. I love it! :D Is it a coincidence that I stumbled upon yet another strong female character? In my opinion, the cover does not really relate to the synopsis, at first sight I assume Winterspell would be a horror book related to porcelain dolls like Annabelle, because the cover girls was so porcelain-ish (did I just make up my own words?), nevertheless, I love the cover! Not so much on the content but I might just give it a try.
On the same note:
Enter this
giveaway
for a chance to win the books mentioned above!
That's all for this week #JBC feature and if you are interested to join in the fun, please do leave a link to your blog and I'll be sure to check it out! You can also grab my button (attached at the top of the post) and I have linked it to my blog post. (Not sure if it works :P). Thanks for reading and have a great week ahead!
Posted by,