The Maze Runner (Maze Runner #1) - James Dashner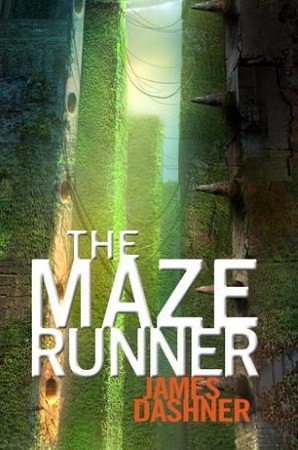 The Maze Runner (Maze Runner #1)
Published October 6, 2009
If you ain't scared, you ain't human.
When Thomas wakes up in the lift, the only thing he can remember is his name. He's surrounded by strangers—boys whose memories are also gone.
Nice to meet ya, shank. Welcome to the Glade.
Outside the towering stone walls that surround the Glade is a limitless, ever-changing maze. It's the only way out—and no one's ever made it through alive.
Everything is going to change.
Then a girl arrives. The first girl ever. And the message she delivers is terrifying.
I admit, the main reason for me to get into this book is because of Dylan O'Brien *fangirl*
I have never stopped wondering why I avoided this book
I have seen this book around on GR and in the book stores around my place as if the covers were
shucked
into my face relentlessly, and after all the years of avoidance (and still wondering why), I finally gave it a try. Having experiencing through the Hunger Games, I always thought that any other dystopia would pale in comparison to Collins' brilliance, The Glade proved me absolutely wrong.
I am a huge fan of dystopia ever since Hunger Games and have came across numerous books of the same genre, but never quite like The Maze Runner. Often I recognize a similar pattern in those books, for one, they often portray females as the leading, strong character. Take Katniss from Hunger Games and Tris from Divergent as an example. So, having Thomas for a change was extremely intriguing. What I do enjoy about The Maze Runner is that it is in fact written by a male author, hence it gave me a greater insight on the male's perspective. I never had much exposure towards books written by male writers, with a few exceptions such as John Green and Jefferey Archer, definitely going to add Dashner's books into my top 10 reading list!
And now for my review....
*I solemnly swear that I will TRY to avoid spoilers*
Mostly I was feeling this.
What was a-MAZE-ing
You do not easily read 100 books per year without expecting to develop a kind of readers' skill - prediction. Personally, it would be a real bummer to me if the hints dropped by the author were too obvious that I was able to pick it up from the beginning of the story, making the ending very much as I expected. Maze Runner was anything but. I could not help but be amazed by the amount of plot twists and climax in the story that made the story seemed fast paced and adrenaline junkie! Every single day marks a new beginning for the Gladers, and every single day there will be a unique agenda that kept me on the edge of my seat. Dashner is brilliant in that sense, he never made the days boring (and do not mention about the nights).
The Maze Runner was a cross between Inception and The Cabin in the Woods, having so many stories going on at the same time makes it confusing yet entertaining, and the idea of being part of an experiment by The Creators reminded me of the brutality and horror from TCITW. I was quite surprised that the Maze Runner also shares similar gore, with its descriptive writing it was easy for me to replace images from the movie with scenes in the maze runner. I was absorbed into the world that Dashner had created, a world of desperation and frustration, of never giving up hope, and of being strong.
Everything was awfully creative, Dashner has grotesquely weaved The Maze Runner into a storyline that leaves readers feeling claustrophobic due to frustration, knowing that there will never be a solution out of the maze.
What I did not like
Even though so many interesting characters were created, I felt as if my meeting with them was brief, and there was not much character development, especially for the secondary characters: Minho, Alby and Gally. I have taken special liking for Chuck and Newt though. Often their behaviour left me asking the question,
why??
, but Thomas was too focused on asking other questions rather than acknowledging them.
And then there's Thomas. I have expected more of him considering he is the shinning star of the story, but his growth throughout the story was minute and disappointing. I feel as if Thomas was lacking in personality and authority and just wished he would be as acclaimed as he is supposed to. I was also similarly disappointed with Teresa, who I expected to have bigger roles than to be addressed as Thomas' girlfriend.So much character build up when she was in coma only resulted in a disappointing awakening. My only hope is that I will get to know them better in the
The Scorch Trials
.
Despite it all, the ending was brilliant and certainly not the way I predicted it to be! The Maze Runner has branded into my mind as being one of the darker dystopia I have read, I recommend it to anyone who loves a bit of a..maze.
Reviewed by,