Where She Went (If I stay #2) - Gayle Forman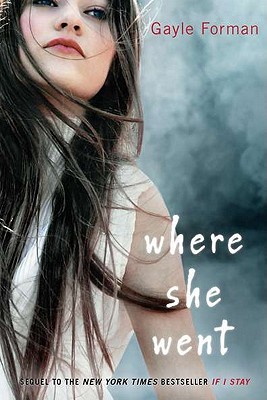 It's been three years since the devastating accident . . . three years since Mia walked out of Adam's life forever.
Now living on opposite coasts, Mia is Juilliard's rising star and Adam is LA tabloid fodder, thanks to his new rock star status and celebrity girlfriend. When Adam gets stuck in New York by himself, chance brings the couple together again, for one last night. As they explore the city that has become Mia's home, Adam and Mia revisit the past and open their hearts to the future - and each other.
Told from Adam's point of view in the spare, lyrical prose that defined If I Stay, Where She Went explores the devastation of grief, the promise of new hope, and the flame of rekindled romance.
To be honest, this is the first time where I will painfully admit that the movie was so much better than the novel, I've read tons of negative reviews saying that it was just a poor replica of a sappy, clichéd young adult flick that was boring in so many levels, but having read the first book, it was everything I imagined and so much more. Needless to say I cried throughout the movie.
After watching the movie (just because Chloe Grace Moretz had portrayed a wonderful Mia, and oh god Adam was perfect!), I knew that I could not put off Where She Went for another year. If I stay did not impact my reader's life as much as I was hoping it to be, due to that I had buried its sequel underneath a pile of books, for Christ sake, I seemed to always do that!
I needed some closure and Where she went was my closure.
I love that the large part of the book was centred around Adam's struggle on losing Mia expressed through his poetic lyrics, it was heartbreaking and raw but equivalently brilliant. I also loved how Gayle Forman narrated the aftermath of the accident, of Mia waking up, of the consequences of Mia's staying. The entire series excellently portrayed such degree of influence music has in our life, what was even more beautiful is how Adam and Mia's world was intertwined despite being in separate extremes. This book is all about music, family and love, and I am proud to say that each element had a generous contribution to it, nothing felt as if it was left short.
I believe in true love, and that it never fades regardless of time and distance. Adam and Mia reaffirmed that. Sometimes we lost track of who we are in the process of making it, you feel lost,, lonely, stuck, but there is always that one person who will be your anchor, reminding you of who and what you are. Mia was Adam's rock.
I was genuinely impressed with the writing, it was delicate, as if the words were music lyrics hinting the truth to those who can hear it. The conversations were not over the top or dramatic, and I could only sum it up as : so much feels, so little words. I took my time reading it because I wanted to imagine every scene from the book being animated into a movie in my head. That intensified my reading experience, gosh my eyes feel puffy from all those tears.
It was the perfect ending, expected yet still does not stop you from wanting to read about it. Final words, perfection.
"Hate me. Devastate me. Annihilate me. Re-create me. Re-create me. Won't you, won't you won't you re-create me."
Review posted by,