Zero - Tom Leveen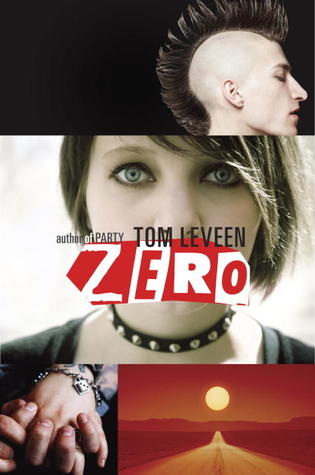 For aspiring artist Amanda Walsh, who only half-jokingly goes by the nickname Zero, the summer before college was supposed to be fun—plain and simple. Hanging out with her best friend Jenn, going to clubs, painting, and counting down the days until her escape. But when must-have scholarship money doesn't materialize, and she has a falling out with Jenn that can only be described as majorly awkward, and Zero's parents relationship goes from tense to relentless fighting, her prospects start looking as bleak and surreal as a painting by her idol Salvador Dali. Will life truly imitate art? Will her new, unexpected relationship with a punk skater boy who seems too good to be real and support from the unlikeliest of sources show Zero that she's so much more than a name.
Here's the thing
I have Zero restraint for self-discovery stories.
This story was about a confused young teen who lived in a tensed household, had issues with her former best friend, dejected and trying to find her artist self and found love for the first time.
I admit, art has never been my best subject and I was never artistically gifted. So reading about Zero, who is a confused, thriving artist-to-be proved to be a hardship, and often I would find her to be whiny, ignorant and rude. Her sarcastic remarks and attitude made me want to yell at her. Yet on the other hand, 'Zero' is Amanda's alter ego and also her 'makeup' to hide her vulnerability, and from where she is coming from, I understand her turmoil.
I developed a personal interest for Zero @ Amanda because I find her to be impulsive, an incessant babbler and sort of whiny. But despite her flaws, I like her (and even more towards the end of the book) and her unique personality. She has quite a unique perspective on art, as unique as her idol, Salvador Dali and the way the author narrated Zero, she seemed to be quite an intriguing character.
Another character I came to adore is Michael, the green-eyed drummer from Gothic Rainbow. Typical band manner : drunk and high. But Mike was neither (and neither is the rest of his band members). I find a certain maturity in Mike, and I like Mike because he saw how special Zero was, and the most important thing, Mike is not an ass. He genuinely cares for Zero and truly admires her art, and he is a very passionate drummer.
Furthermore, I like how the author narrated the story, he added a personal touch to it with witty lines and quirky characters, plus I love the art jokes.
The story has its ups and downs, but overall I liked how different the story was, and I was pretty touched by the ending, in fact I got a bit teary. A journey of self-discovery and maturity, one of my favourite!
Reviewed by,