Author of the Month #3 - M.A. Grant Sunday Feature: Guest Post: First Recipes
"Author of the Month" is a feature that I created to honour some of my favourite authors by featuring their works for an entire month!

This feature will:
Run for entire month.

On every Sunday of the month (excluding the first week where I will have a blog post introducing and interviewing the author), there will be a blog post dedicated to the author. The content of the blog post is entirely up to the author's choice.

The "Author of the Month" button will be displayed in my blog's sidebar during the entire duration.

If you have any questions to ask the author(s), you can leave a comment below the blog post or privately message me at natshane94aa@gmail.com.
For the entire month of
January
, I am proud to feature author
M.A. Grant
,
Marion Audrey Grant is fortunate to live in the rugged beauty of Alaska's Kenai Peninsula. She's believed in happy endings and true love since she was very young. Later in life, the realization that she had stories of her own to tell would lead her to graduate college with majors in Creative Writing and English. Thanks to her husband's unending support, she now works as a scribe to the intelligent women and wounded heroes who need their stories told.
Reach her at:
Jake and Maya's Morning-After Waffles
The morning after a bad decision can be rough. Fortunately, these waffles help you forget those pesky mistakes, at least for a little while. Even better, they're firemen approved!
2 cups all-purpose flour
2 cups milk, with 3 tablespoons Champagne vinegar or lemon juice mixed in
2 eggs, yolks and whites separated
4 tablespoons melted butter
3/4 teaspoon baking soda
1 teaspoon baking powder
1 teaspoon salt
Waffle toppings of your choice
1. Mix your acid (vinegar or lemon juice) into the milk, stirring it in well, and set milk aside
while you get the other ingredients together.
2. Beat the egg whites until they form stiff peaks and set aside.
3. Whisk flour, baking powder, baking soda, and salt into a mixing bowl. Beat the egg yolks, add
the milk mixture, and beat. Add this slowly to the flour and beat until smooth.
4. Add the melted butter; beat until smooth.
5. Gently fold in the egg whites.
6. Cook with a waffle iron, top as you'd like (Maya prefers fruit, but Jake is a butter and syrup
kind of man), and enjoy. Extras reheat well with a toaster.
Cat and Dally's Romantic Dinner
A good meal has always gone a long way to convincing Dallas to do Cat's bidding. For her
planned night of seduction, something a little fancier than pizza is called for, and this meal should do the trick.
For salad dressing:
6 tablespoons extra-virgin olive oil
3 tablespoons lemon juice, plus 1 teaspoon freshly grated lemon zest
1 tablespoon honey
Salt
Freshly ground black pepper
1. Mix everything together in a bowl or jar and season to taste with salt and pepper. Drizzle over
salad greens of your choice.
For roasted lobster tails with a ginger dipping sauce (originally from Cooking Light magazine):
Sauce:
3/4 teaspoon dry mustard
1/2 teaspoon water
3 tablespoons soy-sauce
1 tablespoon plum sauce
1 tablespoon dry sherry
3/4 teaspoon minced, peeled, fresh ginger
Lobster:
2 (8-ounce) lobster tails
Cooking spray
1 teaspoon vegetable oil
1/4 teaspoon dark sesame oil
1/4 teaspoon black pepper
Sliced green onions (optional)
1. Preheat oven to 425 degrees.
2. To prepare sauce, combine mustard and water in a small bowl; stir well with a whisk. Stir in
soy sauce, plum sauce, sherry, and ginger. Set aside.
3. To prepare the lobster, make a lengthwise cut through the top of each lobster shell using
kitchen shears, cutting to, but not through, lobster meat; press shell open.
4. Place the lobster tails, cut sides up, in a shallow roasting pan coated with cooking spray. 5.
Combine the oils and pepper, and spoon over the lobster meat.
6. Bake at 425 degrees for 13 minutes or until the lobster meat turns opaque. Serve lobster with
sauce, and garnish with onions, if desired.
Upcoming next week:
It has been a wonderful January working with author M.A. Grant, therefore for our last Sunday feature of the month, the author has decided to have an international giveaway for 3 ebooks copy of
First by M.A. Grant
, plus an exclusive scene from the book! Stay tuned for next Sunday for a chance to win!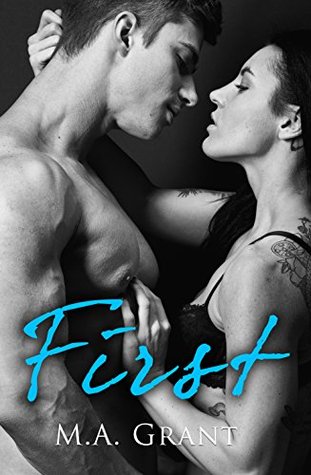 Best friends do everything together—including falling in love…
Maya and Cat have been there for each other through thick and thin, the good and the bad, the laughter and the heartache. But with college graduation on the horizon and real life looming, they find themselves facing an uncertain future: one where not even friendship can save them from confusing choices, bad decisions, and the risks of falling in love.
Maya knows that love only leads to pain, and the best relationships are short—one night short. But after waking up with Jake, her best friend's older brother, in her bed, suddenly things aren't as cut and dry. Cat and Jake are close, a tight unit since their parents' death, and Cat will never forgive her if Jake gets hurt. Jake is a firefighter, and is used to running into flames—not away from them, and Maya can't seem to resist. But she's already decided her future, and it's far away from here. The only way to get what she's always wanted is to burn every bridge behind her, and destroy the possibility of a future with the one man she may be willing to love.
When Cat Jacobs's parents died while she was in high school, her brother's best friend Dallas Miller was there to help pick up the pieces. Several years and a looming college graduation later, Cat's motorcycle-riding, tattooed knight is about to ride off into the sunset—and leave her in his dust. She only has six days to convince him to fulfil her secret fantasy of having him for her first before he's gone forever. She's stubborn and he's tempted, but this is a battle for more than just some time in the bedroom—it's a fight for both their futures.
Posted by,