Progress (Progress #1) by Amalie Silver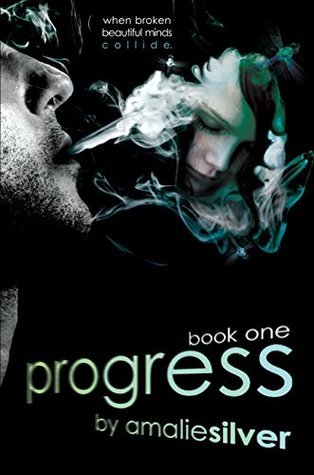 Title: Progress
Author: Amalie Silver
Genre: New adult, Contemporary Romance, Dark
Publication Date: January 15, 2015
Publisher: Book Enthusiast Promotions
Jesse
I admit, I didn't think much of Charlie at first. She was rounder than the girls who usually caught my eye. Not my type. But when I saw her sitting in that booth alone, for the first time something in my mind or my instincts or my heart told me to join her.
She defied me.
She challenged me.
She gave me hope.
Before I knew it, moving forward was my only option.
Charlie
I couldn't tell you when it happened, but it had to have been a gradual change; I never moved too quickly.
If someone would have told me earlier that year what I was going to go through, I wouldn't have believed them.
Jesse was so different from anyone I'd met before. And everyone I've met since. He sucked all the life out of me, in the best—and worst—ways.
We don't get strong overnight. For most of us it takes time. Strength isn't measured by how high and fast our walls go up, but how easily we can watch them fall.
Warning: This book contains material that might be a trigger for some readers. Abuse and rape are implied, but not described in detail. Discretion is advised.
*I received a copy of Now and Then from Netgalley in exchange for an honest review*
Intense.
This book, as the title suggested, were set a comfortable paced as the storyline progressed rather slowly throughout the book. The story was segmented into three parts, each narrated through the POV from the main characters, Jesse and Charlie.
I was stunned by the book and was pretty sure I was dumbstruck by the intensity of the plot. I was unable to decide whether I loved it or hated it, it took me a while to wrap my head around what I just read. Despite my mixed feelings, I gave the book a 4.5 star rating because it still managed to give me the goosebumps even after 2 days since I've last read the book. Being completely absorbed into the story got to account for something right?
What I loved about the book:
From the first page, I knew it was no kid's book. The story was dark, gripping and intense (that's the 3rd time I used this word) that I can't seem to pull myself out of the blackhole. Charlie was obese and insecure about her weight, being bullied since young, she has low self-esteem and was negative about meeting new people for fear that they will only humiliate her. However, Jesse waltzed in one day and became the knight in the shinning armour. Little did she know that Jesse is not a hero, but rather a troubled man surrounded by his own demons.
I immediately requested the book from Netgalley after reading the blurb in hopes for the promise of a tear-stricken romance with an elaborated romantic gesture (in the mood for cheesiness!)
Furthermore, the blurb was similar to a Chinese novel that I read a while back, hence I was excited to have finally found something similar to my favourite book! What I got in return was not quite what I expected. There were several debates over the book, some mentioned what a bad influence Charlie was for losing weight for the wrong reasons, and some even disagreed on the dysfunctional-ity of Charlie and Jesse's relationship. Yes, Jesse was no typical male lead that, instead of spewing sweet and flirty lines, he was a prick that hurls offensive criticism at Charlie, but do not judge him too quickly, he deserved a redeeming quality and I'm trying not reveal any spoilers :P
Charlie and Jesse's characters were perfectly developed, in this short novel, I was able to fully connect to them, although I could not make sense of Jesse's erratic thoughts most of the time. However, his thoughts were the one I found to be most entertaining!
What I did not like:
I practically loved everything about the book! However, I would love to see more of the secondary characters, especially Charlie's parents and how they dealt with her bullying.
If you are looking for a dysfunctional romance with a depth to the story, this is a book just for you.
Posted by,